The Best Yoga Pants for 2021
Yoga pants are an essential piece of clothing in all of our closets (yes, men too – read more below!). I think most people would agree that they are the most comfortable and versatile item you could buy. From Netflix and chilling in your yoga pants to running a quick errand or taking a stroll in the park – these yoga pants can do it all.
If you're interested in finding a pair of yoga pants that can thermoregulate, breathe, and stretch and flow with you then you've found the right place. We've taken the time to detail out all the best yoga pants – from lounging around the house with a cute scrunchy booty to high-waisted tummy control yoga pants for a great workout. Read on to find the best yoga pants for 2021.
The Best Yoga Pants – Reviewed
Best Lifestyle Yoga Pants
These new lifestyle yoga pants from CuteBooty.com really make your booty look- well cute! These pants are medium to high rise and have the signature scrunch pockets. They fit true to size and are 95% Poly, 5% Spandex, and they're 100% squat proof. These pants are also super blackout. As a result, they won't show through to your skin.
The material is soft & heavy making them the perfect lounge pant around the house, a quick trip out of the house, or for a light workout. One reviewer said, "they're extremely soft and buttery smooth. These pants make you feel so comfortable." Highly recommend these to anyone needing to be smothered in relaxation.
Product Details
*NEW & AMAZING*
Fabric Colors: Blackout
Fabric: Soft Heavy Weight Active
Waist: 3.5″ Black Transparent Stripe Waistband
Style: Lifestyle Cute Booty with Signature Scrunch Pockets
Rise: Medium – High Rise
Length: 31″ Inseam (Based on Size Small)
Fits True to Size | 95% Poly | 5% Spandex | 100% Squat Proof
---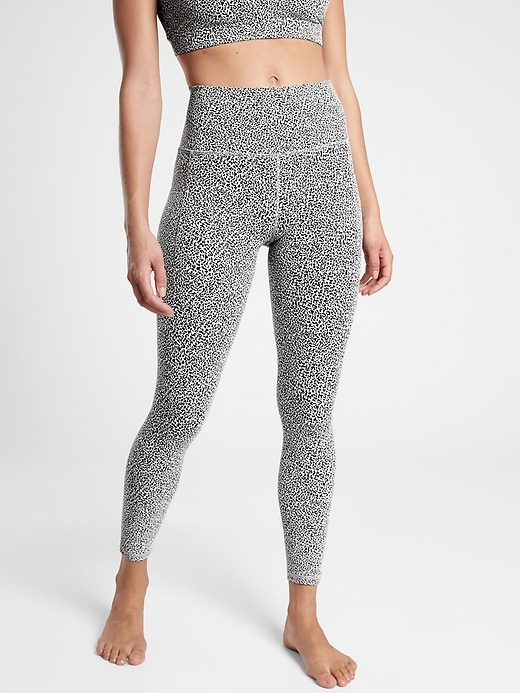 Salutation Stash Pocket II Textured 7/8 Tight – $98.00
from: Athleta
Best Textured Leggings
These yoga pants are perfect for your yoga or studio workouts. The micro cheetah textured yoga pants are fitted with a high-rise waistband that holds you in and doesn't roll down. The length is ⅞ with an elongating back leg seam, and two side stash pockets to hold all your essentials. The textured fabric is made from recycled polyester, nylon, and spandex making these yoga pants are crazy cozy with gentle compression.
One reviewer mentioned that they, "Got this style in the orange print and love it! As a result, you get a bright enough pop of color that makes me feel good but not too out there!" Another reviewer commented with the same excitement, "Love these tights. Super soft material. I was worried about the print but I love it. It is so versatile!" These pants have it all – versatile, comfortable, stylish, and sleek.
Product Details
FOR: Yoga or studio practice
FEEL: Textured fabric is cozy with gentle compression
FAVE: Bonded side stash pockets to hold your essentials
Her favorite stash pocket yoga tight in a trend-right cheetah jacquard
Elongating back leg seam
FABRIC + CARE
Recycled Polyester/Nylon/Spandex
BREATHABLE. Sweat can easily move through the fabric, helping it evaporate
QUICK-DRYING: Dries in a flash for ultimate comfort when breaking a sweat
RATED UPF 50+ (Excellent Protection)
Machine wash and dry.
Imported.
FIT & SIZING
Fitted next to the body with a high-rise waistband that holds you in
Inseam: Reg 25″ Petite 23″ Tall 28″
---

Hard Tail Rolldown Bootleg Flare Pant – $78.00
from: Evolve Fit Wear
Best Roll Down Yoga Pants
The Hard Tail Rolldown Bootleg Flare Pant in Charcoal will lend a classic style to your wardrobe. This full-length pant features a bootleg cut which is fitted with a soft flare at the bottom. It also has an adjustable roll-down waistband which is entirely elastic-free. The fabric is 90% Cotton and 10% Lycra and has already been pre-shrunk.
This pant provides comfort and durability from the soft cotton fabric to the reinforced front and back seams. According to one reviewer who gushed that these pants were, "so comfortable and flattering with a good thick fabric that hangs well." You could pair them with a cute top and have an outfit to wear in your everyday lifestyle, or wear them to your next yoga class!
Product Details
Full-length pant.
Bootleg cut.
Fitted, with a soft flare at the bottom.
Pre-shrunk.
Gusset.
Adjustable roll down waistband, wear high or low.
A soft elastic-free waistband prevents pinching.
Reinforced front and back seam, for durability.
Charcoal color.
Made in the USA.
Why We Love: Love the comfy waistband and classic style!
Fabric: 90% Cotton, 10% Lycra.
Care: Hand or machine wash in cold water, with mild detergent. Tumble dry low or hang to dry.
Do not bleach. Do not use fabric softener.
---

High Waist Seamless Gym Leggings – $35.99
Retail Price: $51.99


You Save: $16.00


from: Primo Leggings
Best High Waist Tummy Control Yoga Pants
We've all had that moment during a run or workout class – your legging or yoga pants just aren't fitting correctly. As a result, you have to keep pulling them up constantly. The solution? High-waisted tummy control yoga pants. The wide, smooth, high-rise waistband cinches you in where your tummy is the smallest. It completely destroys that muffin top feeling and keeps them from rolling down. Aside from accentuating your waist, they also make your legs look crazy long! One reviewer said that these yoga pants are "on-trend, with a wide waistband for a super flattering fit".
Another reviewer admitted that they were reluctant to buy them at first but then raved, "These yoga pants are tight-knit, they stretch well, and are squat proof. They're also better than Gym Shark for the price!" These yoga pants are made from spandex and polyester making them perfect for gym workouts, running, and yoga. The last feature that people love is that these yoga pants are fully seamless. This means that there's less chafing (hallelujah!) and the stitching doesn't dig into your sides when you're working out. Definitely recommend these tummy control yoga pants for anyone who workouts out hard. You really can't go wrong.
Product Details
Superior support and breathability for unparalleled versatility
⭐⭐⭐⭐⭐ High-Quality Fabric
Recommended for: Every activity
Highly resilient with a silky-smooth feel
Flexible for a full range of motion
Helps regulate body temperature
---

Ladies Fitness Capri Leggings – Made in USA – $24.80
Get 10% OFF with code: CFY15
from: Yoga Clothing for You
Best Capri Leggings
Yoga Clothing For You has been a family-owned online apparel merchant for over 19 years, and most of their products are made in the USA with complete satisfaction guaranteed! Their Capri yoga pants are amazing for doing yoga or any other fitness activities that require a little stretch. They are a mid-rise yoga pant that sits above the hip, and the length of these pants hits right below the knee.
They are made from a cotton spandex blend that makes all the difference in your workout. These yoga pants are great for indoor or outdoor practice. The material is perfect for when it's a little warmer outside. So if you're looking for simplicity in your leggings or yoga pants then you found your perfect fit right here!
Product Details
Great for doing yoga or any other fitness activity that requires a little "stretch". Cotton/Spandex blend
Get a leg up with these soft and comfy Capri yoga pants
Color: Black
87% Cotton – 13% Spandex
"Yoga Clothing for You" guarantees your satisfaction on every purchase!
---

Blue/Navy Meggings – $88.00
10% off your first order with code: WELCOME
from: Matador Meggings
Best Yoga Pants For Men
We can't forget about the best yoga pants for men or men's leggings (aka meggings) around from the Matador. Get these for your partner, and understand that they are going to rave about how well they fit. One reviewer said, "I have been living in these (I have 3 of them) every single day for the past month. I go everywhere in them. Women do it, why can't I?" And what makes them so comfortable and convenient are all of the well-thought-out features.
These yoga pants have an inner drawstring to keep your yoga pants for men snug, and a high back rise to avoid any "crack-accidents". The shirt loop in the back gives you a place to carry a shirt or towel. These yoga pants for men also have an open pocket for a phone and a zipper pocket. Giving you a great place to hold your valuables. The soft crotch cup helps to avoid showing the goods to the world.
Product Details
Meggings that can keep up with your active lifestyle. Run like Bolt, lift like Arnold, or dress like Kanye—our men's performance tights won't give up. Go fast enough to get there, but slow enough to be seen.
Why bulls love our meggings:
Soft crotch cup conceals your VPL (visible penis line); brave souls can take it off to bare it all
An inner drawstring keeps your yoga pants snug; a higher back rise avoids any "crack-accidents"
Open pocket for your phone, zipper pocket for your valuables
Shirt loop at the back to carry your shirt or towel
Complete the look with a face mask that matches your meggings!
MTDR – Meggings for Training, Diversity, Recreation